---
Young Muslim Students Spearhead School Wide Fundraising Initiative in South River, Raise Thousands of Dollars for Ugandan Charity


Three students from the Islamic faith-based high school, Darul Arqam, located in South River, banded together on a school wide fundraising initiative, helping to raise $5,000 for Holmdel-based nonprofit Sylvia's Children, in just three months. The students, Aamina Ali, Sarah Soliman (president of the group), and Hira Ismail, led the group and they raised the substantial funds by holding bake sales, championing high school sports tournaments, donation pleas, and various classroom presentations with fundraising goals for each class. Overseeing all of this was the school's principal, Iman ElDessouky. Read entire article
---
Children Helping Children at Vacation Bible School


Children who participated in the Vacation Bible School at the Aitkin United Methodist Church collected 137 pairs of shoes for the children at the Mbiriizi Advanced Primary and Day Care School in Uganda, Africa. The project, entitled "Shoes of Peace", was the brainchild of the VBS coordinators, Celia Doty (pictured standing on left of children) and Julie Hansen.
The VBS was held August 19-23 and ran from 9 to 11:30 am. A total of 15 children ranging in age from 4 to 12 participated in this drive. Sylvia Allen, founder of Sylvia's Children, spoke to the children, talked about how different the living conditions were for the African children and demonstrated how valuable these she contributions were to the Ugandan children, many of whom have no shoes.
Celia, who went to Uganda with Sylvia's Children on their Christmas 2010 trip said, "When our children learned that many children had no shoes at all, when they themselves had as many as 10 pairs, they began to enthusiastically collect shoes and bring them to school." Interestingly, as people learned about the shoe drive they began to bring shoes to Celia's shop, Modern Beauty. She is still accepting donations and, as she said, "With 1,000 children needing shoes just keep bringing the shoes!" Sylvia's Children 9/16/13. Read entire article
---
Pop Goes the Week Interviews Sylvia

POP INTERVIEW:
Sylvia Allen on How She Helps African Children Live Normal Lives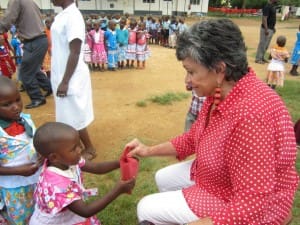 Pop Goes the Week interviews Sylvia Allen and writes, "Like many of you, I have never been to Africa, nor do I comprehend half of what is happening in that part of the world without having visited. It is difficult to imagine what that world must be like in real life separate from what I have seen in quick news stories or heard from politicians, who briefly mention their own African voyages during campaign pit stops. Sylvia Allen is the founder of Sylvia's Children, a non-profit charity devoted to helping Ugandan children attain things we take for granted in the modern world, like water, education, health care and books, and e-mailed responses regarding her experiences working with her "children," as well as chatting the ins and outs of heading the charity and its volunteer work with her biological son and daughter." Read full article.
---
Sylvia's Children Dance Project
---
A Child's Heart Touched by Sylvia's Children

When young Brendon learned of the children in the Mbiriizi Primary School in Masaka, Uganda, Africa, he knew he wanted to help. After talking to his parents, he presented his school teacher with a letter and $125 of his own money to give to Sylvia's Children.
Read Brendon's letter.
---

Join Us on a Future Trip for Sylvia's Children

SPRING 2015
Dates: March 12-24, 2015
This is the annual medical trip to continue improving the health care of our children at the Mbiriizi Advanced Primary and Day Care School as well as the village of Mbiriizi. $3,500 all inclusive (airfare from Newark, all airport transfers, hotel, food, guide and transportation for the entire trip, water, safari...the works)! The only extra money you need is for souvenirs!



Read about Steven's trip to Uganda, Africa!